Valentine's Day is coming up and let me just start by getting something off my chest.
The Hubby and I were out to dinner last week and I overheard a bitter Cougar lady talking to her equally bitter Cougar pal about how they will just not succumb to the ridiculousness of Valentine's Day.
I wanted to snap my head around so quickly and give these two clearly single and needing some good lovin' ladies my two cents, but I decided to keep my thoughts to myself and instead bash them on the internet.
Pretty grown-up of me, right?
In my opinion, it's just a fun little holiday where we just shower the ones we love with a little something extra, whether it be extra smoochies, a sweet card or a little craft. It doesn't need to be spendy at all. I mean, what's wrong with spreading the love?
Below are some inexpensive gifts and valentines for just about anybody.  Who wouldn't smile when giving or receiving one of these?
Gifts "from the kids"- Because let's be honest, a lot of the time it's the parents making these happen. 😉 
LOVE hand and footprints sign from 517 Creations
Calling all husbands/daddies! I promise you will receive mucho brownie points if  you can make this happen for your sweetie!

Bacon Roses from Busted Button
Who doesn't love bacon? I just think my preschooler would get such a kick out of making something like this for her daddy
Hooked on Daddy handprint art – I apologize, I could not find the original source. If you happen to come across it, let me know and I will give credit where due!  
This is just stinkin' cute, and what parent wouldn't like to hang this in their office?
Gifts for the partner/spouse
Pre-planned Date Night Cards from The Thinking Closet
Date nights are important. They are uninterrupted time two people get to spend with one another to focus on themselves. But, they can get a little repetitive so I love the idea of having them already thought out and planned. Something to look forward to!
Balloons over the bed with handwritten love notes from Somewhat Simple
Swoon. I just love little personalized things like this. I cherish little love notes and this is just something that would make anyone feel special.
Kisses from the Mrs. from Lucky You Printables.
This is easy and cute. I picture this being taken to work and set on the desk so that a treat can be enjoyed while away.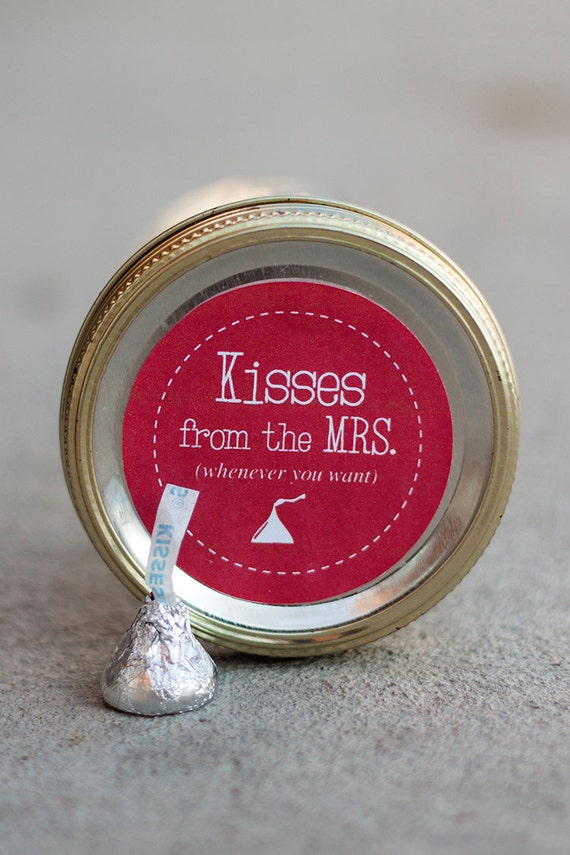 I Love You Because…Frame – Tutorial found here
I made this for The Hubby last year for Valentine's Day. This frame actually broke, but I found a cute shabby chic looking one that we keep in our bathroom to write each other notes on.
Gifts for the kids 
Valentines Poppers from Love It So Much.
Poppers are a Christmas tradition in our house, so these little goodies were very appealing to me. What kid wouldn't like to bust this open to find lots of little trinkets inside?
Candy necklace in a box from Project Wedding
This is a very simple idea, but I think the kids (at least Gwyn) would get a kick out of receiving a candy necklace in a grown-up jewelry box. Just makes it a little more special.
Valentine's Day Mailbox from Shop24
What child wouldn't like waking up to this awesomeness?! Plus, it can be re-used every year! I have seen these little mailboxes (without the stand or name) at Target in the dollar section, or you can buy them pre-made from Shop24 at the link above. CUTE!
Melted Crayon Valentines– Last year I made the kids these melted heart Valentines. It was an easy way for me to use up old crayons and turn them into something cute that I knew they'd use. The tutorial can be found here.
Gifts for the Grandparents 
Hand and foot print rose with a poem from DIY Prince Crafts
I don't know a single grandparent who wouldn't love hand or foot art. Accompanied by a poem? Slam dunk.
Thumbprint Valentines by Simply Kierste
This might be more doable if you have multiple kids and maybe one or two hate getting their hands or feet covered in paint. Plus it's just stinkin' cute.
Handprint  Heart Valentines from The Idea Room
Again, can't fail here.
Long distance hug from Tons of Fun Preschool Activities
LOne set of Gwyn and Cal's grandparents live far away, so this would be a perfect little treat to send them in the mail. So clever, these people!
Scrabble Frame from Just Another Day in Paradise 
Pictures of your kids accompanied by a sweet little message? They're done in.
 Valentines for friends and classmates
Main Squeeze Valentines from Blissfully Domestic
A box of these at Walmart don't cost very much, and I like this a lot more than gobs of candy coming home.
Bear Hugs from Spoonful
I can see Gwyn enjoying helping put together these little Bear Hug bags, what a clever idea!
You're a Great Catch, Valentine from Magic by Marcy
Again, so cute and inexpensive! You can buy the print for this at the link above, or even make your own!
Ginormous Lollipop Valentine from Spoonful
Alright. Adorable. My kids love suckers and this is just the cutest way to present them, ever.
Have a Ball this Valentine's Day Valentine from Dandee Designs
What kid doesn't love a bouncy ball? I love the little non-sugary ideas; good thinking out there, people!
Knot Bracelet from Dandee Designs
Bah! If Gwyn were old enough to make these, this would be the golden ticket right here. I will have to remember this one for future reference!
Thanks for stopping by! Which one is your favorite? If you have another clever or cute idea, please share!